Shipping Returns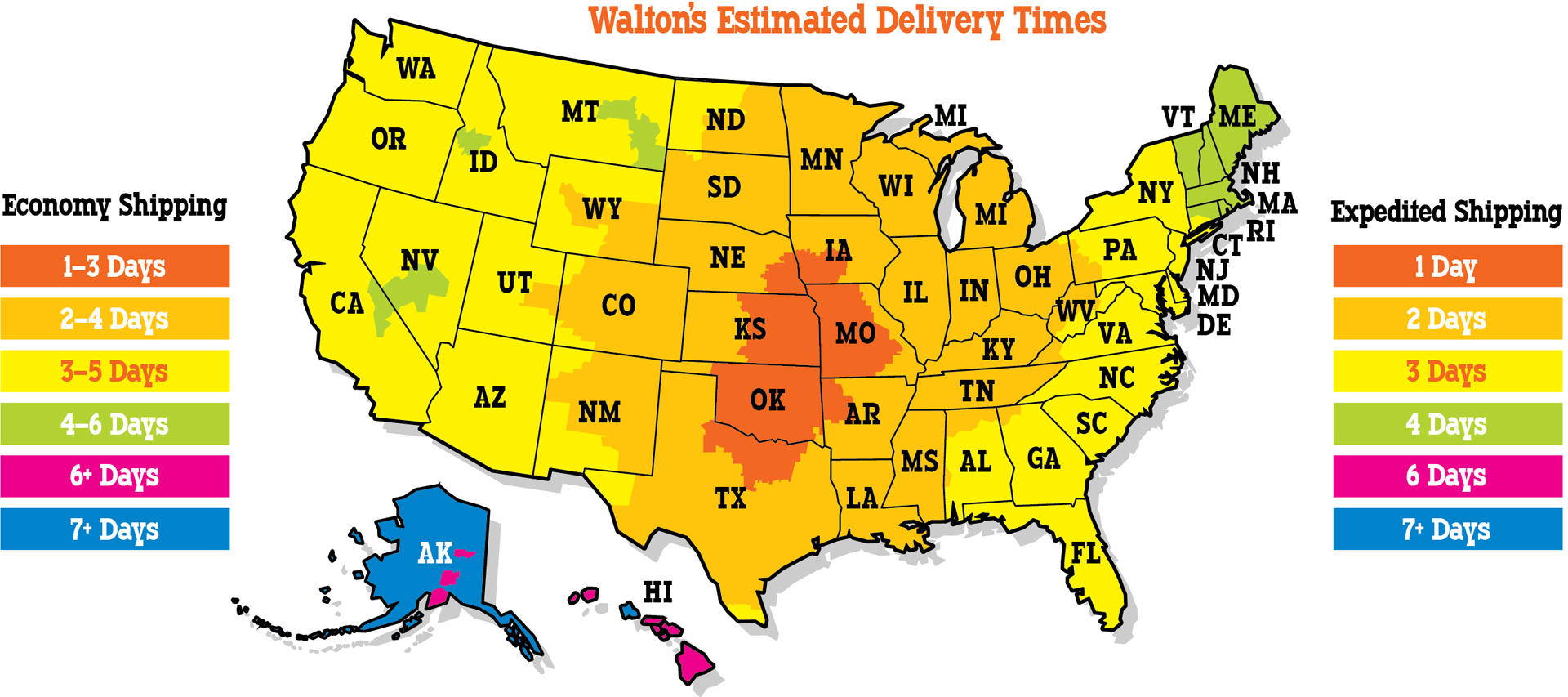 Walton's has Same Day Shipping for all in-stock orders placed by 5:00 pm CST

Every day and all year long, spend $500 and get FREE Shipping on qualifying items
Items available for standard shipping methods and in-stock at the time of ordering will be shipped the same business day if the order is placed by 5:00pm CST.
All orders placed online get FREE Economy Shipping when the order subtotal is $500 or greater. This does not include freight surcharges for heavy or large items, or when liftgate delivery is required
In order to give our customer a lower everyday price on items, some heavy and large items require a freight surcharge. For items with a $10, $15, or $20 upcharge, this will cap out at $240, so ordering 5 of an item with a $10 upcharge would mean a freight surcharge of $50 but whether you ordered 24, 30, or 50+ the freight upcharge would cap out at $240 total.
Returns
Returns must be pre-approved with an RMA number by calling 800-835-2832. Items must be unused and still in original packaging. All returns must be shipped prepaid to us within 30 days of receipt of the order. Any items returned not matching the condition they were stated to be in, will require a restocking fee of 20% or potentially refused. Items not eligible for return may include casings, seasonings, spices, cures, vacuum pouches, liquid smoke, unwrapped band saw blades, any direct food-contact items, and certain special-order items.
Orders with backorders will typically be held until the entire order can ship complete. In scenarios with extended backorder times, we will either ship the backordered item separately, or cancel the affected item.
Some large or heavy items cannot be delivered using traditional shipping methods. In these cases, freight or truck delivery will be used. Truck shipments are considered curbside delivery. This means that the items will not be in a box, but will most likely be on a pallet. The driver is only responsible for getting the item to the driveway of your address. Drivers are not responsible for getting the item off the truck, removal of packaging, assembling items, or anything beyond getting their truck with your shipment to the street of your address. It is entirely your responsibility to remove the item from the truck and bring it inside. This can require multiple people and/or a forklift for some items.
Damage Inspections and Claims
Always inspect the shipment for any noticeable damage before signing for the shipment. Make sure the delivery person notes the full detail of the damage. If the damage is extensive, simply refuse the shipment and it will be returned to us. Please contact us as soon as possible if you refuse a shipment. If you suspect damage that is not visible, open the package while your driver is still there, or make a note on the delivery receipt saying "subject to further inspection". Any concealed damage must be noted and documented within 5 days of receipt.
Even though you are able to checkout with some items, it will be removed from your order if it is shipping to a restricted location. This can include natural casings shipped outside the USA, large or heavy items going to some restricted delivery locations, etc.